THE LODGE
San Jorge Eco-lodge Quito is a 18th Century Spanish Hacienda located a mere 10 minutes away from the noisy city of Quito. In 1989, its owners Irina and George adapted the property and turn it into a birding eco-lodge to receive birdwatchers and nature lovers from all over the world.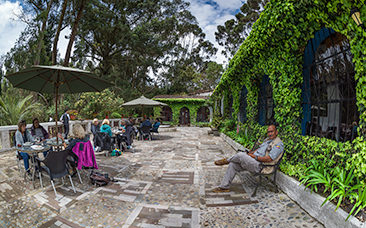 Our property features an 80-hectare bird reserve, now Quito's last remnant of pristine Andean forest. Our lodge is surrounded by native flowering trees, charming gardens, and native orchids carefully brought from our bird reserve. The front patio's hummingbird feeders attract some of the most dazzling hummingbird species in the Andes including the Sparkling Violetear, White-bellied Woodstar, Shining Sunbeam, Green-tailed Trainbearer, Tyrian Metailtail, Black-tailed Trainbearer and the Sword-billed Hummingbird. Our lodge marks the beginning of the eco-toursitic "Ruta del Colibir" or "Hummingbird Route".
LOCATION
Our lodge sits in the foothills of Pichincha Volcano at 9800 feet. We are located 10 minutes away from Quito City and 45 minutes away from Quito airport. We offer excellent central location if you are planning to visit Colonial Quito (old town), Yanacocha Reserve, the "Old Nono-Mindo Road", Jerusalem Park, Tandayapa Cloud Forest, and, Antisana Ecological Park. We are not located within walking distance to any touristic site around Quito city.
OUR BIRD RESERVE
San Jorge Quito Bird Reserve is located in the foothils of Pichincha volcano. Our 80-hectare private reserve, mostly composed of ancient "Pumamaqui" trees, is now one of the last remnant of prime Andean forest around Quito city. Our bird reserve provides shelter to various species of orchids, trees, medicinal plants and over 100 bird species.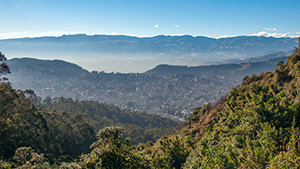 Several highly sought-after bird species have been recorded at our bird reserve including the Ocellated Tapaculo, Undullated Antpitta, Buff-breasted Mountain-Tanager, Purple-backed Thornbill, Purple-collared Woodstar, and the very rare Greater Scythebill. To access the reserve, a 20 minute hike from our eco-lodge is required and the best way to explore it is thorugh the "Loop Trail" which passes through the stream of Singuna and "El Mirador" which overlooks Quito city and its stunning adjoining Andean valleys and snow-capped volcanoes.
ACCOMMODATIONS
LOWER LODGING COMPLEX
Our lower lodging complex preserves an 18th century rustic style and features 4 queen rooms, (1) upgraded and (3) standard. Our main facilites including our festive "Cucayo" restaurant, game room, and, lounge are located in this complex. Our hummingbird patio and bird feeders are located right next to this complex.
UPPER LODGING COMPLEX
Our upper lodging complex was built in 2005 with the same rustic style and features 20 rooms, (4) upgraded queen rooms with private balconies and panoramic views, and (16) standard double/queen rooms. This complex is located 80 meters above the lower complex, main facilites, and hummingbird patio so a short hike and several steps are required to access these rooms.