THE LODGE
San Jorge Eco-lodge Tandayapa - Hummingbird Sanctuary is a secluded birding eco-lodge located in the heart of the Tandayapa Cloud Forest Reserve (famous for holding the world record of 42 hummingbird species registered in one year!)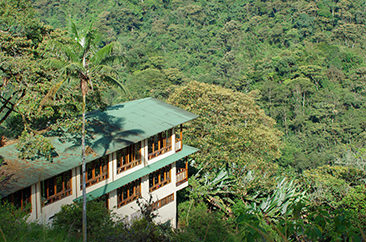 Our eco-lodge is surrounded by 150-hectares of private cloud forest connected to the mega-diverse Mindo-Nambillo protected reserve, which in 1997, was declared an Area of International Importance for Birds. The lodge has strategically been placed at a transitional elevation with the absolute purpose of receiving the most amount of hummingbird and bird species to our feeders. Our hummingbird feeders are visited by up to 27 hummingbird species including the cloud forest iconic and much sought-after Booted Racket-tail and Violet-tailed Sylph. San Jorge Eco-lodge Tandayapa has a privilege central location inside the eco-toursitic "Ruta del Colibir" or "Hummingbird Route". Its owners Irina and George opened the lodge in 2005 to receive birdwatchers and nature lovers from all over the world.
LOCATION
Our lodge sits in the heart of Tandayapa valley at 5500 feet (1700m). We are located 1 hour away from Quito city and San Jorge Eco-lodge Quito, and, 1 hour 45 minutes away from Quito airport. We offer excellent central location if you are planning to visit the famous Old Nono-Mindo Road, Andean Cock-of-the-rock Lek, Mindo-Nambillo Protected Reserve, and, Angel Paz Antpitta Feeding Station. San Jorge Tandayapa Cloud Forest Reserve is located in the heart of the Choco Corridor, Ecuador's most important hotspot for endemic wildlife
OUR BIRD RESERVE
Our 150-hectare private reserve ranges in elevation from 5500 feet (1700m) around the lodge, all the way up to 8000 feet (2500m) in the uppermost part of our "Ridge Trail".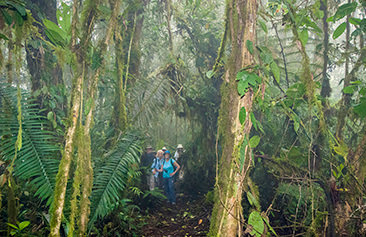 Our private cloud forest reserve can be explored through various trails that pass over different types of terrain. Our "Tanager Trail" loops around the forest near the lodge visiting our four brand new bird observation decks cleverly build to appreciate canopy wildlife, and, both of our ponds which are home to unique bird species like the Ringed Kingfisher and numerous species of multicolored butterfly species like the Pancy Daggerwing, Eighty-eight, and several Clearwings.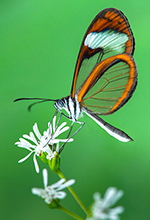 At night, both ponds can be visited to enjoy a concert of wild voices granted by dozens of singing treefrogs. The uppermost area of our reserve, can be explored through our "Ridge Trail" which crosses this ancient prime forest covered in thick mossses and soaked with clouds. Sightings of the endangered Spectacled Bear and the rare White-faced Nunbird can be seasonally consistent at this trail.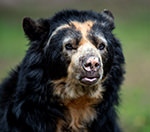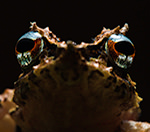 Our "Toucanet Trail" loops around the most forested zone of our reserve where you can find impressive tall hardwood crowded with bromeliads, likens, and, other epiphytes. This trail crosses a little stream of water which becomes a favorite spot for birds to drink water on very sunny days. Army ant swarms which are followed by several antbird species are also more commonly encountered at this trail.

ACCOMMODATIONS
UPGRADED LODGING COMPLEX
Our elegant two-story lodging complex accommodates individual or private groups in (8) spacious double or queen rooms. Tall glass windows overlook parts of the nearby forest and far views of the imposing valley of Tandayapa. Rooms in this complex have private bathroom with hot running water. Each floor has a shared balcony to look for birds in the canopy surrounding the lodge or to glance at the swirling clouds as they move up the valley.
TOP 8 BIRDS