OVERVIEW
Twelve glorious days to photograph birds in Ecuador's imposing Andean valleys, mystical could forests and deep-green tropical forests. Prepared yourself to delve into Ecuador's most biologically-diverse bird photo reserves and eco-lodges looking for endemic hummingbirds, vivid tanagers, splendid toucans, skulking antbirds, agile warblers, and, many more.
DETAILED ITINERARY
CONTINUATION OF OUR 8 DAY TOUR ~ FOR DAYS 1 - 8 CLICK HERE
DAY 9
Bird Photo Papallacta Pass & Cayambe Coca National Park:
Now that we have covered the most birdy areas of the Pacific Slope, we embark in a new journey to an essentially new world, the enchanted forests of the Upper Amazon Basin.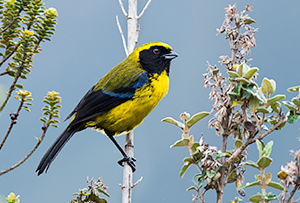 After breakfast we drive to the famous Papallacta Pass to seek some of the high-Andean jewels including the Rufous-bellied Seedsnipe, Black-chested Buzzard-Eagle, Red-rumped Bush-Tyrant, Bar-bellied Woodpecker, White-chinned Thistletail, Many-stripped Canastero, Rainbow-bearded Thornbill, Viridian Metaltail, Giant Conebill, Paramo Seedeater, Bar-winged Cinclodes, Buff-breasted Mountain-Tanager, and, the Plumbeous Sierra-Finch. Once we have covered the pass, we drive To Cayambe Coca National Park.
The much sought-after Rufous-bellied Seedsnipe cloaks with the vegetation at Papallacta Pass. © George Cruz
Cayambe Coca National park is a great place to do photography from the road, we will make several stops to look for incredible species like the Red-crested Cotinga, Lacrimose Mountain-Tanager,.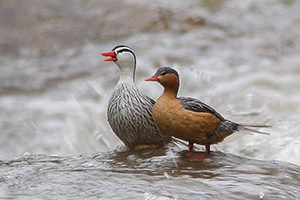 Hooded Mountain-Tanager. Black-backed Bush-Tanager, Pearled Treerunner, Blue-backed Conebill, Pale-naped Brush-Finch, and with some luck the Black-headed Hemispingus, and, the Masked Mountain-Tanager. After covering this area we descend down the beautiful valley of Guango/Baeza. On our way down we will look in Guango river for the Torrent Duck, Torrent Tyrannulet, Cinammon Flycatcher, White-capped Dipper, and with some luck the Red-Hooded Tanager, and the Grey-breasted Mountain-Toucan.
Overnight: Baeza River Lodge
DAY 10
Bird Photo Baeza River Lodge
After breakfast we set-up our seventh hummingbird multi-flash station. Baeza River Lodge offers several new hummingbird species inclduing the scarce White-tailed Hillstar, Golden-tailed Sapphire, Tawny-bellied Hermit, Violet-fronted Brilliant, Bronzy Inca, and the Long-tailed Sylph.
Our Cosanga-BAEZA RIVER LODGE is home to the noisy yet spectacular Inca Jay © Luis Alcivar
After lunch we continue shooting at our hummingbird multi-flash station or optionally we can explore the trails around the lodge which are home to incredible bird species like the Andean Motmot, Saffron-crowned Tanager, Orange-eared Tanager, Golden-eared Tanager, Crested Quetzal, Inca Jay, Turquoise Jay, and the Russet-crowned Oropendola.
Overnight: Baeza River Lodge
DAY 11
Bird Photo Wild Sumaco
After breakfast we drive for 2 hours to Wild Sumaco. This rare transitional foothill forest will grant us a ludicrous amount of new species with. Mixed flocks at this elevation can contain fantastic species like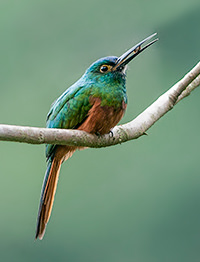 the Yellow-bellied Tanager, Gray-mantled Wren, Blue-crowned Trogon, White-eyed Parakeet, Chesnut-fronted Macaw, Blue Dacnis, Olive Oropendola, Black-faced Dacnis, Blue-naped Chlorophonia, Violaceous Jay, Opal-rumped Tanager, Black Caracara, Crested Oropendola, Masked Crimson-Tanager, Turquoise Tanager. Magpie Tanager, Fulvous Shrike-Tanager, Orange-eared Tanager, Flame-crested Tanager, Fulvous-crested Tanager, and, with a bit of luck, a Chestnut-capped Puffbird an even an Ornate Hawk-Eagle.
The magnificent Wire-crested Thorntail thrives in the foothills of Sumaco volcano. © Luis Alcivar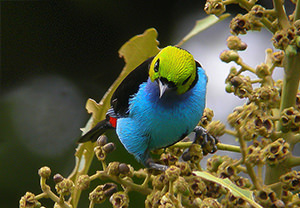 We will also have time to enjoy a couple of hummingbird feeders with brand new species including: Wire-crested Thorntail, Napo Sabrewing, Ecuadorian Piedtail, Golden-tailed Sapphire, Black-throated Brilliant, Georgeted Woodstar, Blue-fronted Lancebill, Rufous-vented Whitetip, Green Hermit, Violet-headed Hummingbird, Many-spotted Hummingbird, Gould's Jewelfront, and, Fork-tailed Woodnymph.
Overnight: Baeza River Lodge
DAY 12
Bird Photo Rio Guango:
After breakfast drive to River Guango Hummingbird Station. Here we will set-up our last hummingbird multi-flash station.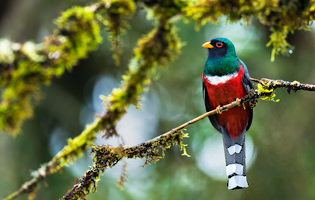 We will photograph a handful of new hummingbird species before we return to Quito. We will go after the Chestnut-breasted Coronet, Collared Inca, Tourmaline Sunangel, Speckled Hummingibird, another chance at the Long-tailed Sylph, and, with a bit of luck the Glowing puffleg. There would be a couple of bird species in the trees around the lodge including the Masked Trogon, Spectacled Whitestart and Slaty Brush-Finch. After lunch transfer back to Quito.
3PM: Transfer to Quito airport or to any hotel in Quito area.
END OF ITINERARY