OVERVIEW
One glorious day to photograph the most dazzling bird species in Ecuador's mystical could forests. Be prepared to delve into Ecuador's most biologically-diverse bird photo reserves and eco-lodges looking for endemic hummingbirds, vivid tanagers, splendid toucans, skulking antbirds, agile warblers, and, many more. Includes multi-flash session for fast-speed hummingbird in-flight photos at San Jorge Eco-lodge Tandayapa.
The exotic Booted Racket-tails are commonly seen at San Jorge Eco-lodge Tandayapa. © Luis Alcivar
DETAILED ITINERARY
DAY 1
Pick-up from any hotel in Quito area and direct transfer to San Jorge Eco-lodge Tandayapa
Bird Photo San Jorge Eco-lodge Tandayapa - Hummingbird Sanctuary:
Upon arrival to the lodge, we begin shooting from the 4 observation decks overlooking our prime cloud forest reserve and the bird feeders around the lodge which will provide an incredible amount of birds species.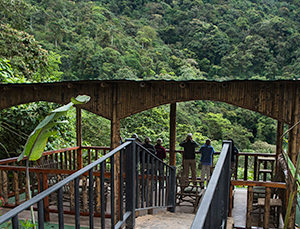 The bird feeders in front of the main patio are visited by multicolored bird species like the Blue-winged Mountain-Tanager, Red-headed Barbet, Streak-capped Treehunter, Three-striped Warbler, White-winged Becard, Metallic-green Tanager, Crimson-rumped Toucanet, Golden-naped Tanager, Golden Tanager, Flame-faced Tanager, Silver-throated Tanagers and many more. Additionally, the hummingbird feeders in front of the breakfast room will be crowded with hummingbirds including the iconic Booted Racket-tail and the Violet-tailed Sylph.
The iconic Masked Trogon at San Jorge Eco-lodge Tandayapa. © Luis Alcivar
Before and after lunch at our open-air restaurant overlooking the impressive valley of Tandayapa, your guide will set-up a multi-flash station to get flight shots of the following hummingbirds: Western Emerald,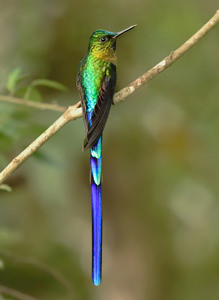 Rufous-tailed Hummingbird, Andean Emerald, Fawn-breasted Brilliant, Buff-tailed Coronet, White-necked Jacobin, Purple-throated Woodstar, Purple-bibbed Whitetip, Green-crowned Woodnymph, and, the much sought-after Booted Racket-tail and Violet-tailed Sylph. In the late afternoon, optional 1 mile trail photography to look for the Scaled Antpitta, Toucan Barbet, Rufous-breasted Antthrush, Masked Trogon, White-winged Tanager, Beryl-spangled Tanager, Ringed Kingfisher, Chestnut-breasted Chlorophonia, Immaculate Antbird, Plain Antvireo, Uniform Antshrike, Russet-crowned Warbler, Black-and-chestnut Eagle, Bat Falcon, White-throated Quail-Dove, Golden-headed Quetzal, and, with some luck, the enchanted White-faced Nunbird.
5:00PM transfer to Quito airport or to any hotel in Quito area.
The Crimson-rumped Toucanet visits the banana feeders at San Jorge Eco-lodge Tandayapa. © Luis Alcivar
END OF ITINERARY