OVERVIEW
Twelve glorious days to discover birds in Ecuador's imposing Andean valleys, mystical could forests and deep-green tropical forests. Prepared yourself to delve into Ecuador's most biologically-diverse birding reserves and eco-lodges looking for endemic hummingbirds, vivid tanagers, splendid toucans, skulking antbirds, agile warblers, and, many more.
DETAILED ITINERARY
CONTINUATION OF OUR 8 DAY TOUR ~ FOR DAYS 1 - 8 CLICK HERE
DAY 9
Birding Papallacta Pass, Cayambe-Coca National Park & Guango River:
Now that we have covered the most birdy areas of the Pacific Slope, we embark in a new journey to an essentially new world, the enchanted forests of the Upper Amazon Basin.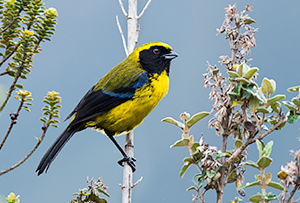 After breakfast we drive to the famous Papallacta Pass to seek some of the high-Andean jewels including the Rufous-bellied Seedsnipe, Black-chested Buzzard-Eagle, Red-rumped Bush-Tyrant, Bar-bellied Woodpecker, White-chinned Thistletail, Many-stripped Canastero, Rainbow-bearded Thornbill, Viridian Metaltail, Giant Conebill, Paramo Seedeater, Bar-winged Cinclodes, Buff-breasted Mountain-Tanager, and, the Plumbeous Sierra-Finch. Once we have covered the pass, we drive down to Papallacta Lagoon to record several aquatic birds that will be hard elsewhere including the Andean Teal, Yellow-billed Pintail, Blue-winged Teal, and the Neotropic Cormorant. At around noon, we will be rewarded with a delicious boxed lunch surrounded by another sublime Andean landscape.
The much sought-after Rufous-bellied Seedsnipe cloaks with the vegetation at Papallacta Pass. © George Cruz
After lunch we drive for 40 minutes to Cayambe-Coca National Park. This stunning Andean forest is home to very localized bird species like the Masked Mountain-Tanager, which can be seasonally fairly common to see. We will focus on getting the Blue-backed Conebill, Black-backed Bush-Tanager, Pale-naped Brush-Finch, Mountain Avocetbill, Blue-mantled Thornbill, Black-headed Hemispingus, Lacrimose Mountain-Tanager, Olive Tanager, Agile Tit-Tyrant,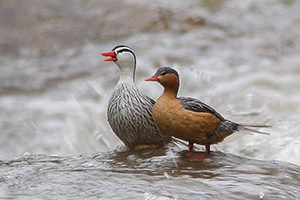 Spectacled Whitestart, Ash-colored Tapaculo, Paramo Tapaculo, Tawny-rumped Tyrannulet, and a second chance at the elegant Plushcap. After Cayambe Coca, we descend to Guango River and spend the rest of the afternoon looking for the Torrent Duck, Torrent Tyrannulet, Black-eared Hemispingus, Cinammon Flycatcher, Slaty Brush-Finch, and with a bit of luck the Red-hooded Tanager and the Grey-breasted Mountain-Toucan. We will also visit a hummingbird feeding Station visited by the Chesnut-breasted Coronet, Collared Inca, Long-tailed Sylph, Tourmaline Sunangel, and, casually, a Glowing Puffleg.
Overnight: Baeza River Lodge
DAY 10
Birding San Napo-Galeras National Park Road & Wild Sumaco
After breakfast we drive for 2 hours to Napo Galeras National Park. This rare transitional foothill forest will grant us a ludicrous amount of new species with. Mixed flocks at this elevation can contain fantastic species like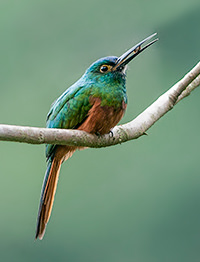 the Yellow-bellied Tanager, Gray-mantled Wren, Blue-crowned Trogon, White-eyed Parakeet, Chesnut-fronted Macaw, Yellow-shouldered Grosbeak, Lettered Aracari, Ivory-billed Aracari, Blue Dacnis, Olive Oropendola, Black-faced Dacnis, Blue-naped Chlorophonia, Black Antbird, Violaceous Jay, Black-and-white Tody-Flycatcher, Gray-breasted Sapphirewing, Opal-rumped Tanager, Black Caracara, Crested Oropendola, Cerulean Warlber, Masked Crimson-Tanager, Turquoise Tanager, Masked Tanager, Lafresnaye's Piculet, Magpie Tanager, Fulvous Shrike-Tanager, Orange-eared Tanager, Flame-crested Tanager, Fulvous-crested Tanager, and, with a bit of luck, a Chestnut-capped Puffbird an even an Ornate Hawk-Eagle.
The magnificent Wire-crested Thorntail thrives in the foothills of Sumaco volcano. © Luis Alcivar
After a delicious boxed lunch, we drive 30 minutes to Sumaco National Park. The road leading to Wild Sumaco can be highly productive with mixed flocks containing at times up to 25 species. Most larger flocks are composed of Paradise Tanager, Golden Tanager, Ornate Antwren, Russet Antshrike, Thrush-like Wren, Cliff Flycathcer, White-crowned Manakin, Black-tailed Treehunter,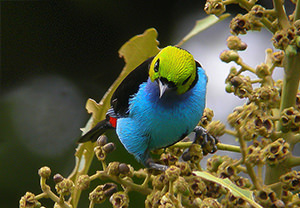 Violaceous Jay, Lined Antshrike, Ecuadorian Tyrannulet, Olive-chested Flycatcher, Orange-bellied Euphonia, SIilver-beaked Tanager, Grayish Saltator, Bay-headed Tanager, Coraya Wren, Crested Oropendola, Golden-eyed Flowerpiercer, Blackish Antbird, Montane Foliage-Gleaner, Olivaceous Woodpecker, Yellow-breasted Antwren, Chestnut-eared Aracari, Gilden Barbert, Yellow-tufted Woodpecker. We will also access a couple of forest trails to try our luck with the Black-streaked Puffbird, Striolated Puffbird, Spectacled Owl, Chestnut-crowned Gnateater, Plain-backed Antpitta, Military Macaw, and other harder antbirds like Scale-backed Antbird and Black-faced Antbird. We will also have time to enjoy a couple of hummingbird feeders with brand new species including: Wire-crested Thorntail, Napo Sabrewing, Ecuadorian Piedtail, Golden-tailed Sapphire, Black-throated Brilliant, Georgeted Woodstar, Blue-fronted Lancebill, Rufous-vented Whitetip, Green Hermit, Violet-headed Hummingbird, Many-spotted Hummingbird, Gould's Jewelfront, and, Fork-tailed Woodnymph.
Overnight: Baeza River Lodge
DAY 11
Birding San Jorge Cosanga-Yanayacu Bird Reserve & Las Caucheras Road
After breakfast we drive for 40 minutes to our San Jorge Cosanga-Yanayacu Bird Reserve. Our exuberant protected reserve is located in the heart of the Cosanga-Yanayacu Christmas Bird Count Area with a world record of 600 bird species recorded in one day.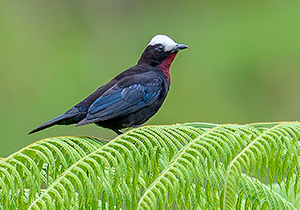 Here, we will bird along "Las Caucheras Road" and some of our target species will include: Lacrimose Mountain-Tanager, Chestnut-breasted Chlorophonia, Grass-green Tanager, Andean Motmot, Golden Saffron-crowned Tanager, Golden-collared Honey-Creeper, Inca Jay, Yellow-billed Cacique, Subtropical Cacique, Northern Mountain Cacique, Long-tailed Antbird, Rufous-headed Pygmy-Tyrant, Rufous-crowned Tody-Flycather, Green-and-black Fruiteater, Golden-headed Quetzal, Dusky Piha, Golden-eared Tanager, Chesnut-bellied Thrush, Capped Conebill, Rufous-crested Tanager, Fawn-breasted Tanager, White-capped Parrot, Russet-backed Oropendola, Pale-edge Flycatcher, Lemon-browed Flycathcer, White-bellied Antpitta. and with a bit of luck the Black-billed Mountain-Toucan, Wattled Guan, the scarce Crested Quetzal, and, the noisy White-capped Tanager.
Our Cosanga-Yanayacu reserve is home to the noisy yet spectacular Inca Jay © Luis Alcivar
After lunch we briefly explore the town and Baeza and its surrounding which can often provide out-of-range bird surprises such as Northern Lapwing, Red-breasted Blackbird, Yellow-browed Sparrow, Spot-breasted Woodpecker, Spot-winged Antbird, and Solitary Cacique. Late afternoon transfer back to San Jorge Eco-lodge Quito.
Overnight: San Jorge Eco-lodge Quito
DAY 12
Birding Antisana Ecological Park - Andean Condor Reservation
Once in the brink of extinction in Ecuador, the Andean Condor has now recovered thanks to several protected reserves like Antisana. After breakfast, we drive for 2 hours to this reserve with the Andean Condor as a main target but with other fantastic bird species also in mind. We first bird the road that leads to the entrance to the Park where we will be greeted by very friendly Bar-winged Cinclodes and Brown-backed Chat-Tyrant.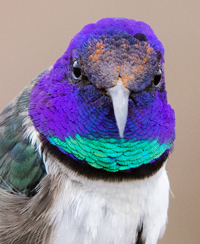 We will then make a stop by an observation deck which sits in front of the breeding cliffs to check for the Condors, if they are not active, we will return in the afternoon and check other places. This same place has a couple of hummingbird feeders which are visited by the Giant Hummingbird and the Great Sapphirewing. Once in the park, we will bird along the road looking out for the Andean Lapwing, Black-faced Ibis, Paramo Pipit, Carunculated Caracara, Black-winged Ground-Dove, Ecuadorian Hillstar, Tawny Antpitta, and, with some luck an Aplomado Falcon, Black-billed Shrike-Tyrant, and, the Andean Siskin. At around noon, we will have a boxed lunch in front of the 18,700 feet high snow-capped volcano to then drive to "La Mica" lagoon to check out for the Andean Ruddy-Duck, Andean Coot, Andean Teal, Silvery Grebe, Andean Tit-Spinetail, Many-striped Canastero, and, casually, a Cinereous Harrier.
The enourmous Andean Condor is the main focus of our trip to Antisana © Luis Alcivar
After exploring the lagoon, we return to the Condor sightseer, they are noticeably more active in the afternoon if it is sunny. From here, we are also more likely to see other raptors like the Black-chested Buzzard-Eagle and the Variable Hawk.
At around 4:00PM transfer to Quito airport or to any hotel in the area of Quito.
END OF ITINERARY